The Civic Leadership Institute is a week-long program for high school students interested in gaining a deeper understanding of the Constitution and American political leaders through an on-campus experience at Arizona State University.
This year, due to continued social distancing restrictions, the School of Civic and Economic Thought and Leadership (SCETL) has made the decision to move the Civic Leadership Institute (CLI) to a hybrid, week-long program with virtual and in-person participation options.
The virtual CLI option will include a guided curriculum that covers several themes throughout the week, a series of educational webinars led by our faculty, discussion groups facilitated by student mentors, and opportunities for students and parents to learn more about becoming a Sun Devil.
The in-person CLI option provides an opportunity for students to explore the campus and participate in a faculty-led, guided curriculum in a classroom setting and outdoor activities. Housing will not be provided at this time and in-person participants can expect to be on campus from 8 am to 6 pm. The curriculum offered for both options is the same.
There will be a fee of $250 for in-person participants this year as well as a financial assistance application for those who qualify. More information on the cost will be released during the enrollment process. Students who complete the program will be given a certificate of completion at a later date.

Eligibility + Application Information
The Civic Leadership Institute is intended for mature high school students with an interest in American civics, government, history, and a strong academic potential to thrive in a challenging environment replicating a college experience. Eligible applicants will be rising high school sophomores, juniors, or seniors, with a minimum of 3.25 GPA. (Seniors graduating in May 2020 are ineligible to apply.) Applicants will be selected on the basis of academic achievement, drawn from these materials, and including the following criteria:
• Academic achievement evidenced by cumulative GPA.
• Preparation and success in relevant coursework (e.g. American History or Government) - minimum grade of B in all high school history or government classes taken to date.
• Statewide representation (geographic diversity) is also a consideration in student selection.
If the current situation prevents you from obtaining any required application materials or information, please provide a supplementary statement by email and your application will receive equal consideration.

Anyone may register to watch the daily videocast but to participate in the discussions you must complete an application. Each discussion session will consist of 12 to 15 students. Seating is limited. Students who successfully participate in discussion sessions will receive a Civic Leadership Certificate from the School of Civic and Economic Thought and Leadership at ASU. After you are registered and once the program begins on June 21, you will be sent a daily email with tasks to complete and videos to watch, as well as our upcoming webinar schedule for students and parents. We will give priority consideration to those who have already applied or started to apply.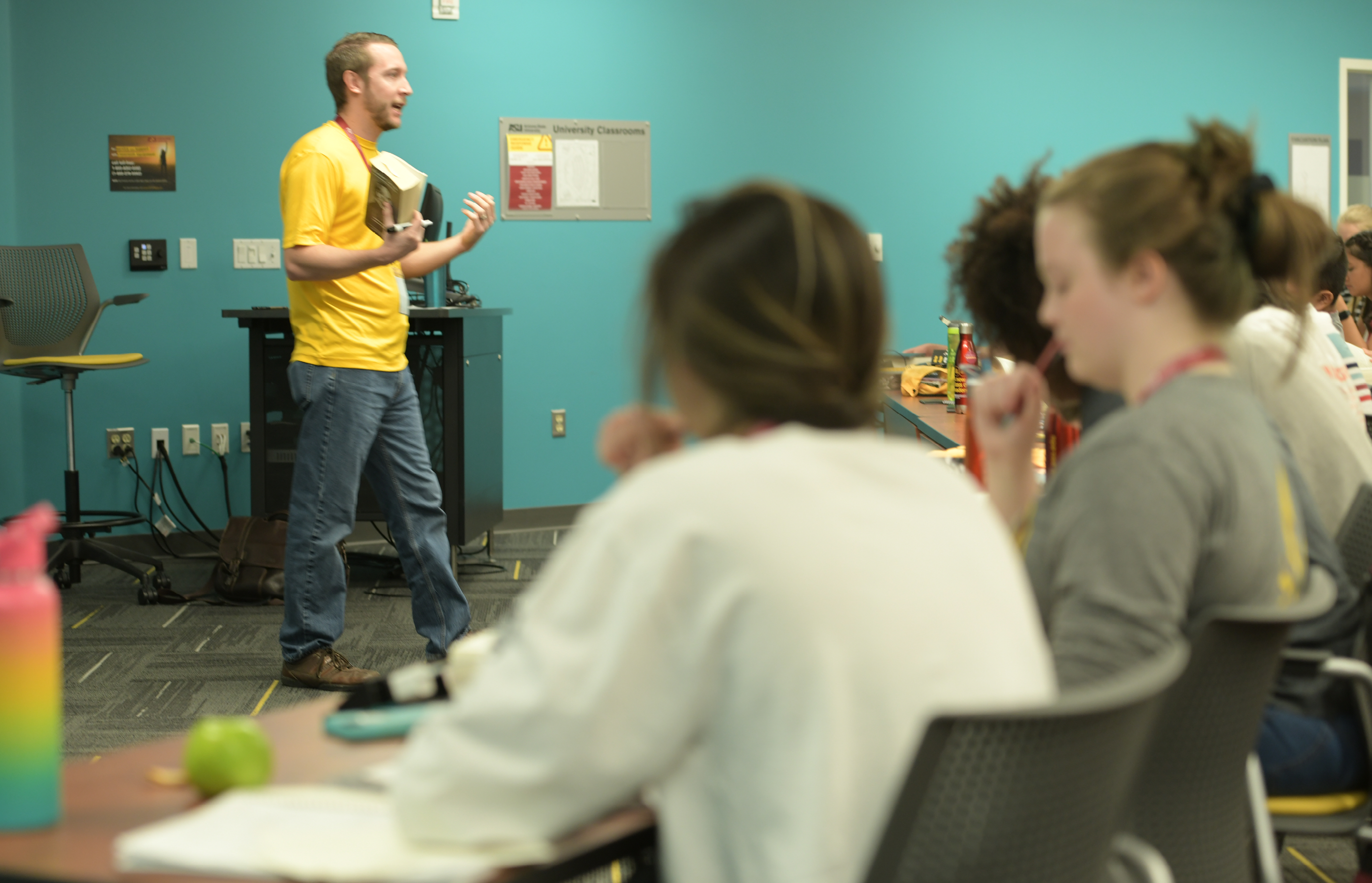 "This institute gives (the students) the opportunity to get a head start on having knowledge about their constitutional rights and liberties, as well as the fundamental principles that have defined American debates and aspirations," said Zack German, an assistant professor at the School of Civic and Economic Thought and Leadership.
The American Constitution in Action
The 2021 Civic Leadership Institute will be held virtually over the course of five days, June 21-25. The theme of the 2021 CLI will be The American Constitution in Action and will explore the ways in which the first and oldest written constitution in human history has leaped off the page and into the lives of the American people throughout our history.
The five days will be guided by interconnected sub-themes that span from the Founding Era to today:
Monday: Federalism and the Constitution
Tuesday: Representation and the Constitution
Wednesday: Executive Power and the Constitution
Thursday: Judicial Power and the Constitution
Friday: Contemporary Constitutional Debates (Culminating Experience)
Each day will include three curricular components:
A brief introductory lecture featuring the school's faculty highlighting each day's learning material.

Virtual participants will be given a Zoom meeting link.
In-person participants will be in a classroom setting for the lecture.

Discussion and breakout conversations between students and faculty that are centered on the primary source readings.
There will also be ASU-related activities for in-person and virtual participants following the discussions.
"We need to make sure all of our students are educated about civics so we can make informed decisions on voting and things like that," said Sowmya V., a student at Desert Mountain High School.
Important Information
Statewide representation (geographic diversity) is also a consideration in student selection.
Incomplete applications will not be considered.
Students are able to apply for both tracks.
Decisions from the selection committee are final.
The program will charge a $250 fee and will offer financial assistance as needed.
Health & Safety Protocol for in-person participants
The CDC recommends that people in high-risk groups consult with their healthcare provider about attending any large gathering. If you do choose to attend in person, please keep in mind the CDC recommendations as well as ASU Community of Care health protocols on how to keep yourself and others healthy:
Face coverings that fully cover your nose and mouth in accordance with CDC guidelines are required at all times on ASU campus.
Maintain a minimum of six (6) feet of distance from others.
Cover your mouth when coughing or sneezing.
Avoid close contact with people who are sick.
Avoid touching your eyes, nose, and mouth with unwashed hands.
Wash your hands often with soap and water for at least 20 seconds. Use an alcohol-based hand sanitizer that contains at least 60% alcohol if soap and water are not available.
You can find more information on the Novel Coronavirus and ASU's response here.

"I like exploring things like this because it really gives you great insight on what life would be like at ASU," said Lexie S., a student at Veritas Preparatory Academy in Phoenix. "You get to see all the great teachers and the opportunities. They talk about all this amazing stuff, and the campus here is so beautiful."