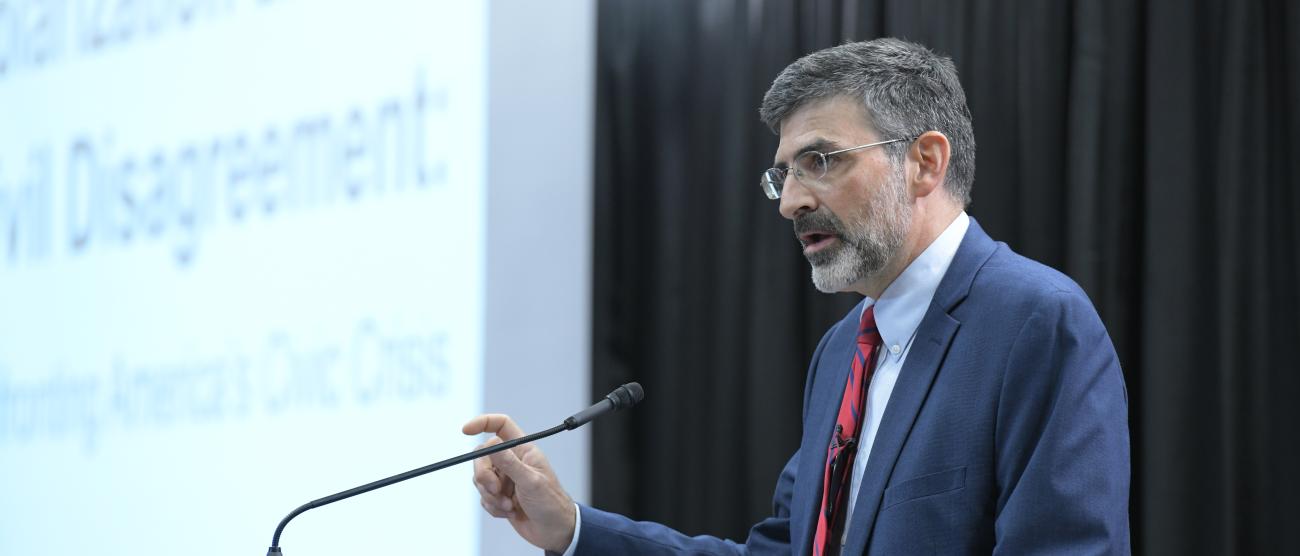 A message from the director

Paul Carrese,
Founding Director, School of Civic and Economic Thought and Leadership
I'm delighted that your interest in civic affairs, service, leadership, and great ideas has led you to explore the School of Civic and Economic Thought and Leadership at ASU. I hope you will explore our website and other materials to learn how this this innovative program is serving ASU, Arizona, and the nation by reinvigorating the nexus of liberal arts education and American civic education.
SCETL is a new kind of department preparing the next generation of leaders through study of great works of civic, economic, political, and moral thought blended with experiential learning in the U.S. and abroad. We partner with existing schools and centers at ASU, including a faculty affiliate program and co-sponsoring of speaker events, public dialogues, and other outreach efforts. Our Visiting Scholars program brings distinguished intellectuals for seminars or to teach courses; we recently launched an M.A. degree as well as an undergraduate certificate in PPE (Philosophy, Politics, Economics); and we have reinvigorated two ASU centers in connection with our degrees and our public outreach programs. SCETL taught 1,200 students in 2021-22; our enrollments continue to grow; in 2022-23 we have about 70 majors and 60 minors.
This range of elements in one school is distinctive. American higher education and our civic culture could use a dose of this nexus of great intellectual works with preparation for leadership and statesmanship in 21st century America and a globalized world. We are vindicating the higher and broader relevance of such study for inspiring students to dedicate themselves to service in the private and public sectors, both in America and abroad; and to appreciate civic discourse and civil disagreement. While once unique, we are no longer: SCETL has become the model for new institutes on American civics, directly funded by state government, in Florida, Tennessee, and Texas universities.
We have attracted students from ASU's Barrett Honors College, because this blend of intellectual and practical experiences benefits students looking to excel in their professions, civil society, and public affairs; further, the SCETL program provides an exceptional foundation for prestigious national and international graduate fellowships.
I hope you will contact me with comments or questions; or to suggest support for SCETL in its important work.
Paul Carrese
Founding Director