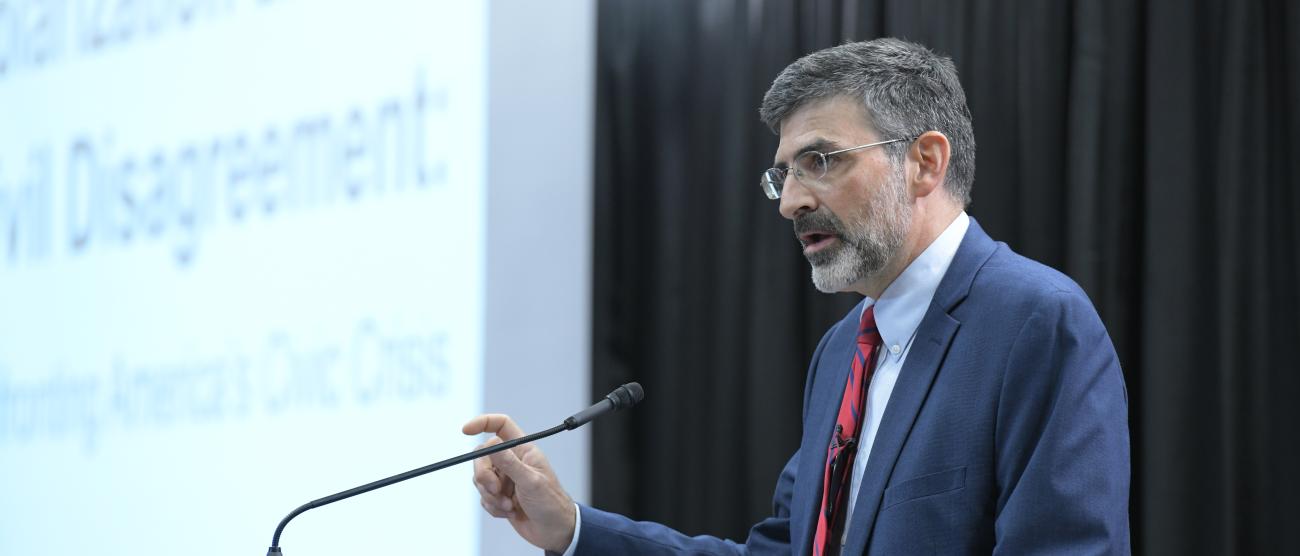 A message from the director

Paul Carrese,
Founding Director, School of Civic and Economic Thought and Leadership
I'm delighted that your interest in civic affairs, service, leadership, and great ideas has led you to explore the School of Civic and Economic Thought and Leadership at ASU. As the founding director, I look forward to working with colleagues and students to build this innovative program.
The School of Civic and Economic Thought and Leadership is a new and nationally unique program preparing the next generation of leaders through the study of great works of civic, economic, political, and moral thought. We will build and sustain this initiative by partnering with existing schools and centers at ASU, including a faculty affiliate program and co-sponsoring speaker events, public dialogues, and other outreach opportunities. We aim to have a national Visiting Fellows program established by our second year, and a graduate program by the fifth year.
This range of program elements within one school is distinctive. The core spirit of these endeavors is the nexus of great intellectual works with leadership and statesmanship for 21st century America and a globalized world. To that end, this school supports existing study of the humanities and social sciences at ASU and nationally. We also vindicate the higher and broader relevance of such study for inspiring students to dedicate themselves to service in the private and public sectors, both in America and abroad.
Moving ahead, we will develop a strong relationship with the Barrett Honors College at ASU, since this blend of intellectual and practical experiences will benefit students looking to excel in their professions, civil society, and public affairs; further, this program will provide an exceptional foundation for prestigious national and international graduate fellowships.
Please contact me with comments, questions, or suggestions; or to indicate an interest in partnering with or supporting the School of Civic and Economic Thought and Leadership.
Paul Carrese
Founding Director