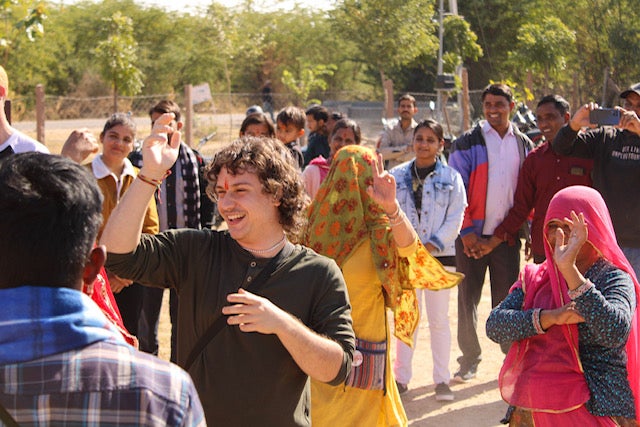 Global Intensive Experiential Courses
The School of Civic and Economic Thought and Leadership offers Global Experiential Courses during academic breaks. These are opportunities to travel and apply themes learned in classes to real service and leadership projects abroad.
GIE: SCETL Leadership and Service in Israel and the West Bank
 We will use tools learned during the academic year to listen and learn from Israelis and Palestinians of divergent views and narratives on religious, cultural, historical, and political issues.  At sites focused in Tel Aviv, East and West Jerusalem, and Bethlehem—to include an Israeli settlement, a Palestinian refugee camp, and a Jerusalem bi-cultural classroom—we will practice servant leadership in a variety of contexts. Throughout the trip, students will be called upon to "see through the eyes of the other" as they practice and promote civil dialogue in a polarized region. Back on the ASU campus, students will be required to participate in a post-trip debrief session to reflect on their deepened understanding of the challenges and rewards of leadership and global awareness in the 21st century, and the challenges of being a citizen and leader in a liberal democracy. This global experience will increase your global awareness, help you develop a robust service-learning experience, and strengthen your leadership skills. 
GIE: SCETL Leadership and Service in Romania
Romania plays an increasingly military, strategic and humanitarian role as a member of both the EU and NATO. While in Romania you will learn about the country's geo-strategic positioning and explore the Black Sea and Danubian region as a gateway to "the Other Europe". Stepping back in history, you will also learn about the country's ties with the former Austro-Hungarian and Ottoman Empires as well as the USSR that will cast a long shadow over the nations of Central and Eastern Europe. Students will also participate in academic visits to Ceausescu's People Palace, Dracula's Castle in the Carpathians, Transylvania Castles, and more!
Prior to traveling, student participants will join classmates and faculty in the study and discussion of culture, politics, and relevant contemporary issues in the countries they will visit. During their travels, Global Intensive Experience participants will research, explore, work, and collaborate with people from different backgrounds and perspectives in order to gain a deeper understanding of the important issues that they will need to consider in order to be effective, thoughtful, globally-conscious leaders.

"This experience changed my worldview and challenged my mindset by exposing me to a completely new culture and community. I was able to hear diverse perspectives and opinions on politics, service, and leadership."  - Carla N.

"Studying the Israeli-Palestinian conflict right there in Palestine, right there in Israel, was one of the greatest experiences of my life. I really don't think ASU offers anything like it."  - Dominic F.

"It's so important you take advantage of that short time by being present in every single conversation and engaging with all of the speakers... because that is not something you are going to be able to get once you come back to Arizona." - Julia J.