Annual Martin Luther King, Jr. Lecture
The School of Civic and Economic Thought and Leadership hosts an annual lecture in observance of Martin Luther King, Jr., which provides an indispensable forum for the school to include historical and contemporary conversations about race in American society within the framework of civic discourse that inspires all of our public programs.
This year, we included the Martin Luther King, Jr. lecture as part of our Citizenship and Civic Leadership in America speaker series, as well, and an episode highlighting the discussion will air on Arizona PBS at a later date.
"The Anatomy of Cancel Culture" with Franciska Coleman
We will discuss the populist regulation of speech (a.k.a cancel culture) and how it functions in practice. It will also suggest policies institutions might adopt to improve the operation of the populist regulation of speech.
About the Speaker
Franciska Coleman is an Assistant Professor of Constitutional Law at the University of Wisconsin Law School and the Associate Director of the East Asian Legal Studies Center. She is an interdisciplinary scholar, whose work draws upon political theory, critical discourse analysis, and constitutional law. Professor Coleman is deeply interested in the social justice implications of race and class hegemony in constitutional interpretation and in the effects of institutionalized oppression on the self-governing capability of vulnerable groups. Professor Coleman's current research projects focus on 1) understanding the anatomy of cancel culture and its effects on marginalized groups as speakers and 2) understanding the relationship between equal protection and political power. Her work has appeared in the First Amendment Law Review, the Journal of Free Speech Law, and the Boston University Law Review. Prior to joining the faculty of the University of Wisconsin Law School, Prof. Coleman was a Visiting Assistant Professor at Washington University in St. Louis and a Visiting Scholar at Harvard Law School. Prof. Coleman received her JD from Harvard Law School and her Ph.D. in Literacy, Culture, and International Education from the University of Pennsylvania. While studying at these institutions, she was awarded the AAUW Selected Professions Fellowship and the Fontaine Fellowship.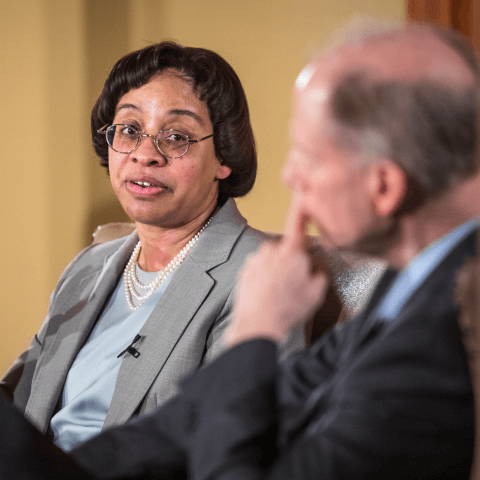 Annual Martin Luther King Day lecture at Arizona State University considers range of perspectives on activism
Scholars discuss intellectual, ideological diversity of civil rights movement at ASU.
Two of the nation's most respected scholars of race and politics visited Arizona State University's Tempe campus Wednesday to participate in the School of Civic and Economic Thought and Leadership's third annual Martin Luther King Jr. Day lecture, "Citizenship and the African American Experience."