Internships are an integral part of a degree in civic and economic thought and leadership. Through an internship program in the field of their interest, students will have a head start in their careers by introducing them to the people and organizations to work for, professional projects that demonstrate their abilities and the experience needed to succeed in their careers.
Students in the School of Civic and Economic Thought and Leadership have worked in local and national political campaigns, in the Washington, D.C. offices for U.S. senators and traveled abroad with nonprofit organizations.
The School of Civic and Economic Thought and Leadership offers travel funding for internships in Washington, D.C. and those taking place internationally, as well, making the internships more accessible for every student in the school.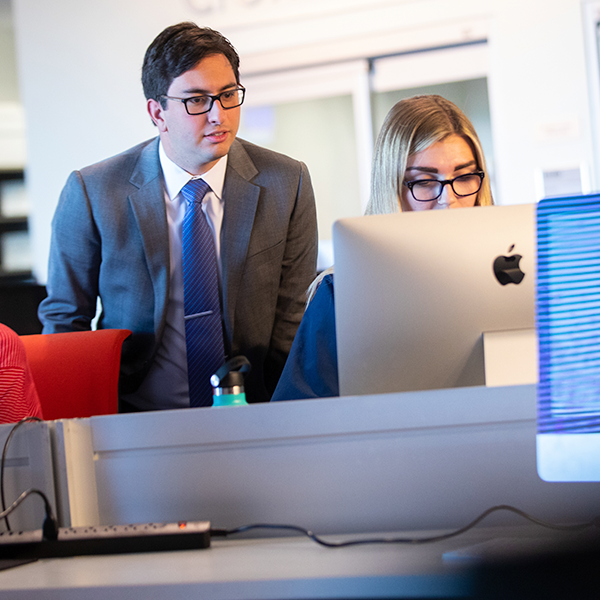 For employers
The School of Civic and Economic Thought and Leadership works closely with congressional offices in Arizona, nationwide and in Washington, D.C.; as well as nonprofits; government agencies; and large and small businesses to develop internship programs for its students. Our students are interested in facing complicated problems, aspiring to become leaders in their field, and just as eager to learn outside the classroom as they are inside.
The school accepts internship programs for the summer, fall and spring semesters. If you're interested in submitting an internship to be posted to our internship portal, or you need to submit an evaluation on an intern you recently hosted, visit our Employer page.
More information on SCETL Internships
Internship Contracts
In order to earn internship credit, there must exist an internship contract between the Arizona Board of Regents and office/entity in which the ASU/SCETL student is serving an internship. This requirement is university-wide. To find out if such a contract exists with the office with which a student seeks to intern, please ask the office. If no contract exists, SCETL can assist the student in creating the contract.
For more information, contact Carol McNamara, Associate Director for Public Programs, by emailing carol.mcnamara@asu.edu or by calling (480) 965-0270.
Internship Credit
The School of Civic and Economic Thought and Leadership internship program is designed to provide students with practical experiences in the realm of politics, government and non-profit organizations at the local, state and national levels. Students who serve political and government internships apply what they have learned in the classrooms to practical circumstances and enhance the civic education that makes them active citizens. As interns, students will acquire the communication and organizational skills necessary for success in the world of politics, government, public service and private sector. Finally, internship work experiences give students a competitive edge when seeking employment. Employers have come to expect internship experience from recent graduates.
In order to qualify, students should have attained at least a sophomore class standing, although juniors and seniors will have priority. There is a preference for a cumulative GPA of at least 3.0.
Academic Credit
SCETL students serving internships can register for up to 12 academic credits. All internships must be approved for SCETL credit by the supervising professor.
To fulfill the requirements for these internship credits, students must:
1. Submit a weekly journal record of his/her daily internship work and experiences to the supervising professor via email or blog;
2. Submit a research paper on a topic related to their internship and approved by the supervising professor.
3. Submit a Prospectus for the paper, which will be at least 2 double spaced pages in length, and will include: a research question; a written summary of several paragraphs (not merely an outline), which explains the direction and content of the arguments of the essay.
4. The number of credits taken will determine the length of the research essay:
3 credits: 5-7 pages
6 credits: 10-12 pages
9 credits: 15 pages
12 credits: 20 pages
5. Provide an assessment from a supervisor.
*Non-SCETL students may take SCETL internship credits
Internship Travel and Support Funding
As part of the curriculum and the school's experiential learning model, students majoring or minoring in civic and economic thought and leadership, both major and minor students are required to complete an internship prior to graduation.
The School of Civic and Economic Thought and Leadership wants to make an experiential education available to all of its students. As part of that promise, the school offers travel and support funding for internships in Washington, D.C. and taking place internationally, as well.
To learn more about how to apply for internship funding, contact Carol McNamara by emailing carol.mcnamara@asu.edu or call (480) 965-0270.
Application Requirements:
If you would like to apply to SCETL for travel support funding, you need to complete the application and submit documentation at least 4 weeks prior to travel.
Please note: this funding is intended to supplement your individual experience. It may not fund the entirety of the experience.
Eligibility Requirements:
Participating students must be enrolled in the School of Civic and Economic Thought and Leadership as a Major or a Minor.
3.0 GPA
Students must complete a written application (see below), which will be assessed by a SCETL faculty committee.
Funding is not guaranteed and is awarded on a competitive basis.
Travel Funding Applications will be reviewed on a rolling basis and in light of available funding.
SCETL students are eligible to apply for travel support funding in the following areas: internships, thesis research, military conferences, or academic summer programs.
The Strongest Candidates:
Have a demonstrated record of engagement in all aspects of the SCETL program.
Required Application Materials:
Are you receiving funding for this internship experience or thesis research from other sources?
1. Statement of Purpose/Justification for travel stipend support:
2. Documentation (to include internship acceptance or invitation letter, or in the case of thesis research travel funding, evidence of Seriousness of Purpose, such as, Institutional Affiliation, Letter of Affiliation, Honors Thesis Contract, Correspondence with Research Partners:
3. Budget (to include cost of airfare, ground travel, accommodations, per diem):
4. Unofficial transcript
5. Letter of Recommendation from SCETL Thesis Supervisor (Research) or SCETL professor (Internship / Military conference)
Submit Application materials to:
Dr. Carol McNamara
Associate Director for Public Programs
School of Civic and Economic Thought and Leadership
Arizona State University
951 S. Cady Mall/Social Sciences, 107D
PO Box 870602/Tempe /AZ 85281-0602
office: 480 965 0270
carol.mcnamara@asu.edu
More information:
Reimbursable Expenses
The travel support funding may cover costs of airfare, ground transportation (taxi, shuttle services, trains, public transportation), hotels/lodging, meals, and event registration.
The cost of your meals (per diem) can be calculated using the daily rate determined by your destination. To determine this rate, visit https://cfo.asu.edu/travel-perdiem
The travel support funding will NOT cover the cost of rental cars, phone calls, internet access charges, poster printing, or any expense prohibited by university policy. Reimbursable expenses must be supported by itemized receipts.
One-Way Fares: If you decide to purchase two one-way airfares instead of a round-trip fare, you will need to print a quote of a round-trip fare at the time your one-way fares were booked, in order to demonstrate to the ASU Travel Department that the round-trip fare is in fact more expensive.
SCETL will not give travel advances for any reason.
Expense Reimbursement Information:
Students will schedule a pre-departure travel appointment to submit paperwork and fill out a travel request.
After receiving approval for your application, you have one week to submit your travel request into the travel system Concur for approval to ensure that in the event something occurs during your trip you are covered by ASU. Please meet with Kimberley Birchall to ensure proper submission, and make sure to add her as a delegate in your profile. If this step is not completed 3 weeks prior to travel, the funding will be denied.
Within 1 weeks of trip completion, traveler should complete the trip expense report by logging into https://myasutrip.asu.edu/login and uploading applicable receipts. Please contact Kimberley Birchall to assist you in completing the final steps of the travel expense report. Traveler should add Diana Maalouli as an approver to the expense report prior to submittal. If this step is not completed within 3 weeks of trip completion, the funding will be forfeited.
Receipts of expenditures will be necessary to be reimbursed under this program. Only the traveler can be reimbursed.
Original receipts must be submitted within one week after travel is complete during the follow up travel appointment.
You are also required to add a statement on the travel request that explains the purpose of your travel and how it benefits you, SCETL, ASU, and your education.
Please make sure to include your travel award letter(s) to the trip request as an attachment. When you return from your trip and are completing your expense report, please attach your award letter to a line on the report and name it "other supporting documentation". All submissions that do not include this backup will be returned.
This process is necessary to reimburse you for travel expenses. If your trip is cancelled, please send an email to Kimberley.Birchall@asu.edu and cancel your online travel request form.