Speakers
Kristen Soltis Anderson and Margie Omero
Video thumbnail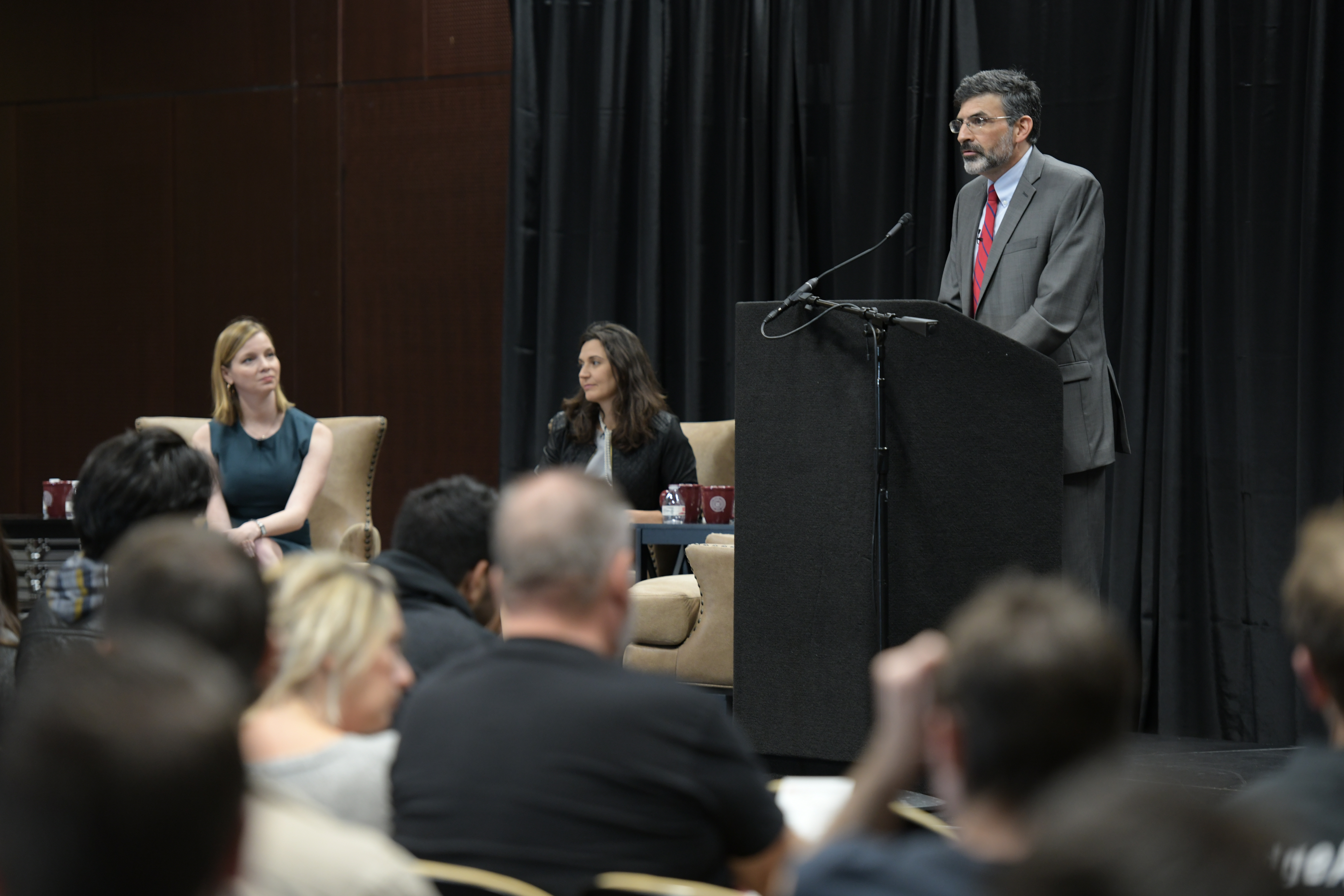 Event Type
The Civic Discourse Project
Civic Discourse Project season
Polarization and Civic Disagreement
Video Title
Analyzing the 2018 Midterm Election Results with "The Pollsters"
Body
The School of Civic and Economic Thought and Leadership welcomed pollsters Kristen Soltis Anderson, R, and Margie Omero, D, as they bring their podcasting partnership to ASU to analyze the results of the 2018 midterm elections as they do regularly on their podcast, "The Pollsters." Both Anderson and Omero, from different sides of the political spectrum, analyze the polls driving news in politics, tech, entertainment and pop culture. For this post-election conversation at ASU, they considered the polls and the issues from the midterm election.
About the series
The polarized and compartmentalized intellectual climate on American campuses both mirrors and contributes to similar maladies in American civic life. To examine the problem and begin to discuss possible solutions both at the level of the campus and society, the School of Civic and Economic Thought and Leadership, together with its partners in the Walter Cronkite School of Journalism and Mass Communication and the Sandra Day O'Connor College of Law, is hosting a lecture series and conference, "Polarization and Civil Disagreement: Confronting America's Civic Crisis."
About the speakers
Kristen Soltis Anderson is author of "The Selfie Vote: Where Millennials Are Leading America (And How Republicans Can Keep Up)." She is a pollster and co-founder of Echelon Insights, a research and analytics firm. She was one of TIME's "30 Under 30 Changing the World" and has been featured as one of ELLE's 2016 "Most Compelling Women in Washington." Anderson is an ABC News political contributor, a columnist at The Washington Examiner, and is the co-host of "The Pollsters," a bipartisan weekly podcast. She regularly appears on programs such as "Morning Joe," "Fox News Sunday," "Real Time With Bill Maher" and more. In 2014, Anderson was a resident fellow at the Harvard Institute of Politics. Her research on millennial attitudes has been featured in The New York Times Magazine and she regularly speaks to audiences of corporate leaders and public officials about how to reach the millennial generation. Prior to launching Echelon Insights, Anderson was vice president of The Winston Group, a Republican polling firm. She received her master's degree from Johns Hopkins University and her undergraduate degree from the University of Florida.
Margie Omero is the executive vice president of public affairs at PSB Research, a strategic research company with offices around the world. She has over 20 years of experience managing all facets of qualitative and quantitative research, including everything from methodological design to business development and strategic analysis. Her clients have included some of the world's biggest brands such as Kellogg's, McDonald's and Walmart as well as non-profit and advocacy groups such as The Center for American Progress, Everytown for Gun Safety, and Compassion and Choices. Omero has also led the bipartisan team studying Walmart Moms — a proven swing voting bloc covered by most major news outlets. A frequent writer, commentator and speaker, Omero has appeared on CNN's "The Situation Room," MSNBC's "Hardball," Fox News Channel's "The O'Reilly Factor," NPR's "Diane Rehm Show" and many others. She has also appeared in The New York Times, The Washington Post and USA Today. Margie speaks regularly before groups of students, lawmakers, business leaders and journalists and, along with Kristen Soltis Anderson, co-hosts the bipartisan weekly podcast, "The Pollsters." Omero has been named one of "50 Politicos to Watch" by Politico, a "Mover and Shaker" by Campaigns & Elections magazine, a "Young Woman of Achievement" by the Women's Information Network and "Rookie of the Year" by the American Association of Political Consultants.