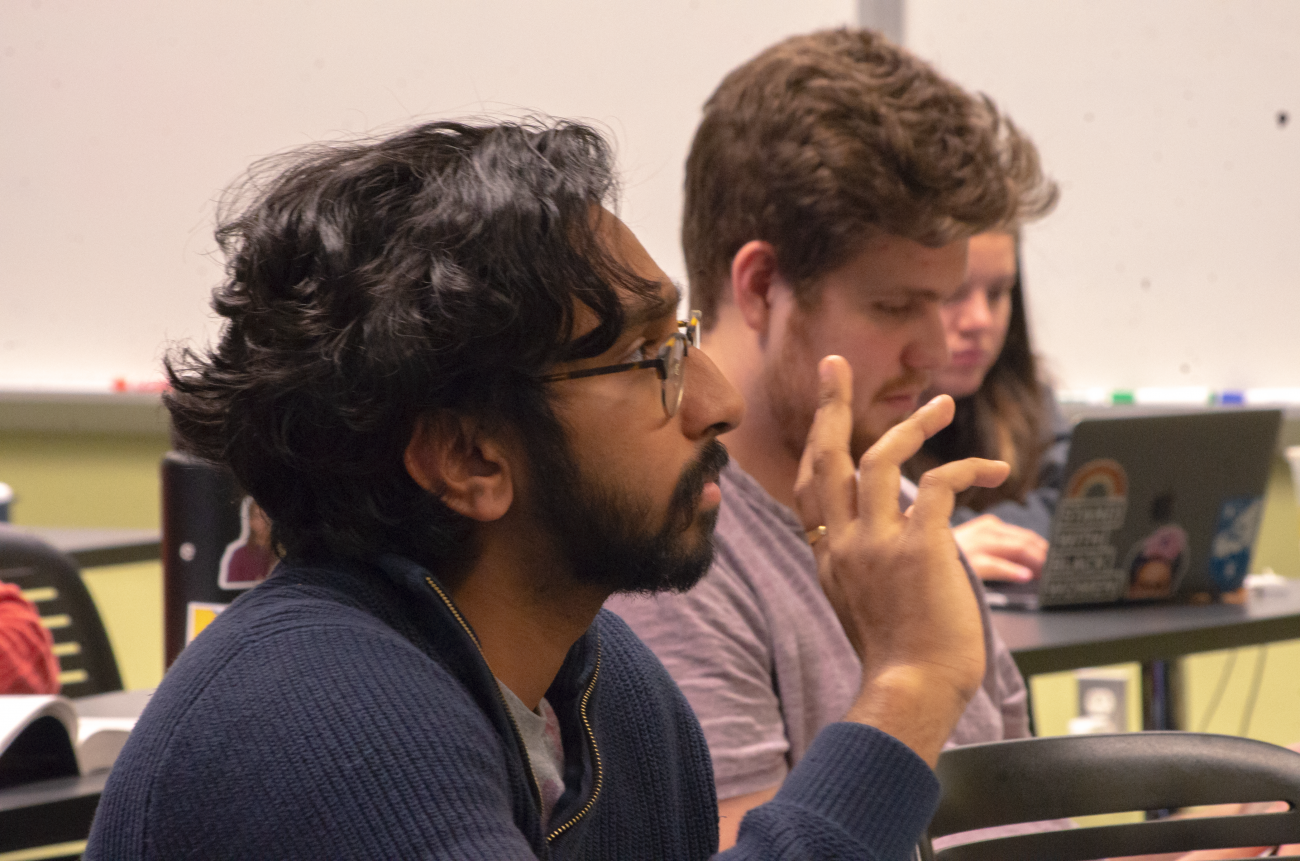 Spring 2023 Course List
The School of Civic and Economic Thought and Leadership offers four distinct academic tracks in its undergraduate curriculum.
Moral and Political Thought
American Political Thought
Economic Thought and Political Economy
Leadership and Statesmanship for the 21st Century
To graduate with a BA or a BS degree in civic and economic thought and leadership, students are required to take at least one course from each academic track in addition to the required core courses. A variety of upper-division courses are offered in each track every semester to allow you to tailor your academic experience in SCETL to your own goals and interests.
"SCETL is kind of a mix of a few things. You get economics, you get history, you get philosophy all blended into one, which is a really cool and unique experience to be able to hear from all of these different schools of thought and you get to challenge yourself." - Justin H. 
Moral and Political Thought
American Political Thought
CEL 394 Race and the American Story
CEL 394 Lincoln: Rhetoric, Thought, Statesmanship
What might we learn about statesmanship today by studying someone who lived more than 150 years ago? In this course, you will examine what Lincoln said, thought, and did. Take this course to reflect on the characteristics, challenges, and possibilities of statesmanship in a democratic society, and to think more deeply about liberty, equality, democracy, constitutionalism, and union.
T/Th 9 a.m. - 10:15 a.m. | Zachary German | Tempe Campus | Session C: Class # 34883
CEL 494 American Constitution II
What civil liberties do you have under the US Constitution? We begin with a discussion of the Founding and earlier understandings of rights, before moving broadly through the Bill of Rights and Fourteenth Amendment, with reference also to the Arizona Constitution. This is the second of a two-part sequence on the U.S. Constitution and its development.
T/Th 3 p.m. - 4:15 p.m. | Sean Beienburg | Tempe Campus | Session C: Class # 27586
Economic Thought and Political Economy
CEL 304 Classical to Modern Economic Thought
A survey of economic thought from classical to modern economics; including classical economics, Marxist economics, neoclassical economics, institutionalist economics, Austrian economics, Keynesian economics, Chicago economics, new institutionalist economics, and public choice.
T/Th 9 a.m. - 10:15 a.m. | Ross Emmett | Tempe Campus | Session C: Class # 34755
CEL 350 Philosophy, Politics and Economics
This course prepares the foundation for students to become active participants, as citizens and leaders, in a liberal democratic society that faces an uncertain future. Provides familiarity with core conceptual tools provided by philosophy, politics and economics, and an appreciation for the foundation they provide together to address social and political uncertainties we face today as well as in the future. Reliance on any one disciplinary set of tools and skills is useful, of course, but the real challenges of any liberal democracy are met by neither technocratic nor bureaucratic solutions. They require an awareness of the relevance of ethics, politics and economics, as well as an appreciation for the limitations of each and the necessity of thinking through their interactions.
T/Th 3 p.m. - 4:15 p.m. | Andrew Humphries | Tempe Campus | Session C: Class # 28927
CEL 394 Debating Socialism
This class explores the concepts of value, economic calculation, and the Socialist Calculation Debate in relation to the viability of central planning in a modern economy. What is "value" and what relation does it have to money prices? What problems would a socialist commonwealth face in assigning value to resources? Is socialism of a central planning variety a viable alternative to capitalism? What is the relationship between totalitarianism, democracy, capitalism and socialism?
T/Th 12 p.m. - 1:15 p.m. | Andrew Humphries | Tempe Campus | Session C: Class # 34798
Leadership and Statesmanship for the 21st Century
Explore the roots of political order, from ancient Greece to modern India or study the debates over fundamental American principles! Hear directly from our students and faculty on what civic and economic thought and leadership courses are all about.