Hear from our students about what brought them to Arizona State University, how they discovered the School of Civic and Economic Thought and Leadership and how they plan on applying their education to their futures.
Experiences that form an education.
Max was a first-year student when he went on the school's Global Intensive Experience to India. For Max, this was an opportunity to get an up-close look at the largest liberal democracy in the world. Through volunteer work with Barefoot College in rural Rajasthan and talking with scholars at the Fulbright House in New Delhi, everything Max experienced hit him on a personal level. "We weren't just looking around and taking pictures," Max said. "These experiences were trying to form our education and the things that we are trying to do later in our lives."  
"I haven't really seen an education like this before."
Currently majoring in neurobiology, Ariana decided to add a minor in civic and economic thought and leadership to her academic pursuits. She recommends CEL courses to all of her friends. While they're reading classic texts and studying philosophy, they're also learning how to apply to leadership today, and how to use it effectively. In her STEM-related classes, she doesn't get that. For Ariana, the contrast of her scientific major and liberal arts minor work very well together. "I'm better in my STEM classes because of SCETL, but I'm also better in my SCETL classes because of my STEM major."
A new outlook on education.
In May 2017, Kainoa S. was finishing his sophomore year at Seton Hall University in New Jersey when he started to feel ill. After passing out during his finals and a trip to the emergency room, he was wheeled onto an airplane that took him home to Scottsdale, Arizona. When the plane landed, he was rushed to Mayo Clinic where he was in a medically induced coma for over three weeks. "As I've found out, you make a plan and God laughs at you, right?," Kainoa says. "I'm definitely a testament to that. He wasn't laughing at me for taking away my plan, but just not understanding the grandness of it."
Lowering the barriers to education.
Julia, an Arizonan native, spent 2 months in Israel this summer. Following the end of the Global Intensive Experience with the school of Civic and Economic Thought and Leadership, Julia remained in Tel Aviv and worked as an intern for the African Refugee Development Center as a higher education caseworker with Sudanese and Eritrean refugees and asylum seekers to help get them resources to apply for university, look into vocational and language education, and help them get integrated into the Israeli society.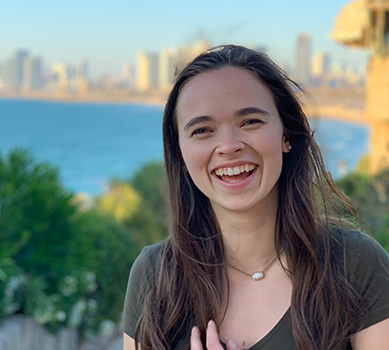 "It's a world-changing experience."
As a transfer student from Chicago, Illinois, Dominic F. was drawn to Arizona State University because of the rankings of the schools in the University and the different global programs they have to offer, which he has taken advantage of by going on the School of Civic and Economic Thought and Leadership's Global Intensive Experiences to Israel and the West Bank. During this 10-day experience, he was able to research, explore, work and collaborate with Israeli and Palestinian political groups, think tanks and religious leaders.
Life after college.
In May 2019, Elana Q. was the School of Civic and Economic Thought and Leadership's first graduate. Since receiving bachelor degrees in civic and economic thought and leadership and philosophy from Arizona State University, Elana has moved to Washington, D.C. and works for Georgetown Law at the Georgetown Center for the Constitution. 
"Every day it feels like my life is in a movie," said Elana.
A Passion for Civic Discourse.
Justin attended his second Global Intensive Experience in Israel and the West Bank in May 2019, which was the first trip to the deeply conflicted nation in Arizona State University's history. For Justin, this was an opportunity to learn more about conflict and its impacts on people's lives. "I had the opportunity to speak with people on both sides of the political issue of the Israeli-Palestinean conflict, and actually hear their perspectives first hand. That was incredible."